About Banbury Sailing Club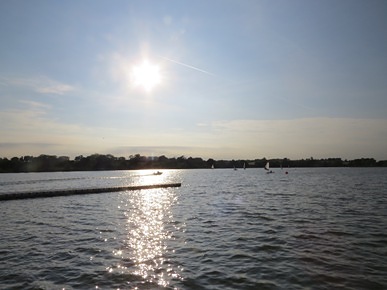 Banbury Sailing Club is a family friendly club, formed in 1950 and ever since has been training and developing its members.
The Club is open to all ages and experience levels - from keen racers, family sailors through to those who are new to sailing.
We sail on Boddington Reservoir, which is around 90 acres in size and is set in attractive, unspoilt countryside. The reservoir is located near Byfield, Northamptonshire (about 7 miles north of Banbury), and draws sailors in from Oxfordshire and Warwickshire too.
Members can sail at any time except on a few occasions in the year when the club is holding an Open Meeting or on one of the scheduled work party days.
The Club is an RYA registered Training Centre and runs many courses each year for members ranging from start sailing to more advanced courses, including Powerboat qualifications. Click here for more details.
We feel that there are many benefits to sailing at Banbury Sailing club, not least of which is the idyllic location of the club.
Our members enjoy the following benefits:
Near unrestricted opportunity to sail on the reservoir - 7 days per week, 52 weeks per year
Free use of the club sailing boats.
Access to the clubhouse, with changing facilities, showers, galley and licensed bar.
Entry in our organised dinghy racing series
In addition our members can take advantage of:
Subsidised RYA-approved training in the safe use of sailing and powerboats (Training is encouraged for all members and our instructors are members of the club). For more details, please see the training pages
Youth Sailing - a very active and popular section of the club, which often has a waiting list. Click here for more details
Regular social events at which members meet and socialise.
Join us to find out more about your sailing future at Banbury Sailing Club.
If you want to speak with us about joining Banbury Sailing Club, please send an email with your name, address and telephone number to: info@banburysailing.org.uk.

Last updated 18:34 on 7 September 2023